I had a chance to do a review with this adorable ARC customizable notebook organizer. I have to say it is really cute and chic and if you don't know what to get the professional on the go that isn't into all the tech things then this is a very cute alternative solution. It's very fashion savvy! This is awesome because it is really something I can really use as I really do need some organization into my life. I love the look and feel and how it makes me feel that one small part of my life has some organization to it. It's really great to have something so easy to use right there at your finger tips. It would make a great Valentines Day gift for the anyone needing a place to write everything down. I have a smart phone but still find myself writing with pen and paper so this makes perfect sense for me!
Now look at this really cute and chic looking organizer!! I just love it!
Here are the product details!
Leather cover
Premium, heavyweight paper
60 repositionable narrow-ruled sheets
Fits 8-1/2" x 11" Arc refill paper
Letter Size
Pen holder
Interior pocket with business card slots
Staples Brand 100% Satisfaction Guaranteed
M by Staples™ Arc Customizable Patent Leather Notebook System, Pink Quilted, 9-1/2" x 11-1/2"
Look at the colorful flags that you can add to this organizer, I'm a mom so I can use this for keeping track of appointments or school projects that need to be done. As a blogger, this will come in handy of keeping track of my reviews and contacts. I really do love this - it is a soft quilted cover and it came with lots of flags and labels. I even found a pink pen to put in it. I love the way you can add, remove and re-arrange and just customize it the way you want, also love that the hooks don't open like regular notebooks and usually I get pinched either opening or closing them which doesn't feel too good (ouch) such a great little chic looking organizer in my opinion.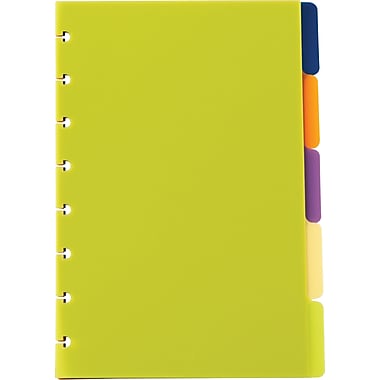 Look at all the different colors of dividers that come with it!
I would have to say that the only thing that I found that I didn't understand about this Arc customizable organizer was how in the heck do you open it to add the paper..lol but after further investigating I found that the paper is cut so that it automatically has an opening and you just slide the paper in it. The best thing about this organizer is that it comes in several variety of colors and different designs and you can customize it any way you would like. Staples has a lot of accessories available for this line so you can definitely make it your own!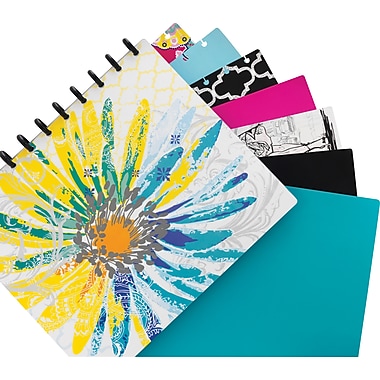 Product Details:
6-3/8" x 8-3/4"
Customize the cover to your needs
Premium, heavyweight paper
60 repositionable narrow-ruled sheets - simply pull out pages and move from one section to another
Includes 4 solid color inserts and 4 pattern inserts
Durable poly cover
Junior size
Staples Brand 100% Satisfaction Guaranteed
I received The ARC Customizable notebook organizer from STAPLES in exchange for an honest review but all opinions are 100% my own.